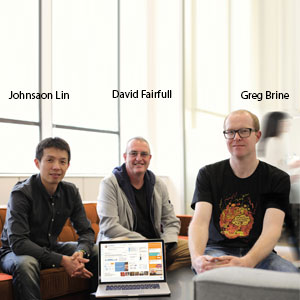 Johnson Lin, CTO & Co-Founder, David Fairfull, CEO & Co-Founder and Greg Brine, CPO & Co-Founder
Many SMB marketers struggle with the complexity of social marketing. There are lots of tools that help with data and process, but the real need is to have a compelling and effective strategy and the capacity and resources to deploy that effectively and in real-time. The great leap forward that Metigy makes is to tackle this major issue with the application of AI to provide a personalized contextual stream of insights and actions. Based on historical patterns for success and aligned with real time contextual relevance, any marketer from novice to advanced, can apply the recommendations in the Metigy Action Stream to generate consistent 2x and 3x improvements in performance in their social marketing.
Within two years of inception, Metigy has become a trusted digital partner for innovative and early adopter brands across a range of sectors, assisting and educating them about social marketing best practices. "Metigy delivers advanced AI and Machine Learning assisted decision support and education to improve digital marketing decision making for Marketers at every level of experience, adapting to the needs of the user and their requirements and objectives. Our fundamental aim is to assist our customer to both meet and outperform their social marketing objectives based on a 'what to do, when to do it, and how to do' paradigm," says David Fairfull, CEO & Co-Founder, Metigy. "Most brands and the marketers guiding their success, know they need to harness of the power of AI, but they don't know how to get started.
We have made it easy and we aim to make it fun as well, and in doing so, we expect to change the way the marketing industry works bringing technology and creativity together in an incredibly powerful context"
Most brands and the marketers guiding their success, know they need to harness of the power of AI, but they don't know how to get started. Metigy has made it easy to transform your approach to social marketing
With customers across 84 countries, adoption is growing rapidly, and the team have plans to expand their success in the US with the establishment of an office in Q4 2018. They also have plans to expand the application of their recommendation technology beyond social marketing through partnerships and integrations and scale up to an omni-channel marketing solution for SMB marketers who really think marketing should be both easier and more effective.
At a practical level, the solution suits startups with a single inexperienced marketer, right through to medium enterprises with small marketing teams that simply want to drive better outcomes utilizing AI to support their existing team expertise. It also works well with social agencies running complex programs for brands, where the real-time nature of contextual social conversation, provides opportunities to leverage trends that would otherwise be missed.
Fairfull recalls the example of a startup Blisspot. com, a popular online personal development community, and one of Metigy's customers. The Australia-based business is tackling a global audience and social is a perfect communication medium. But with a small team and multiple objectives, Metigy has helped them to continually improve their results 3x on a quarterly basis, and use organic overpaid to keep acquisition costs down. "Blisspot has been able to grow into the US market in a really effective way without significant social marketing experience in-house and that makes the Metigy team really proud. That is just one of many stories that drive us to keep delivering innovation"
With a freemium plan to suit startups and influencers, or more powerful paid plans at very reasonable rates, it is easy to get started. Simply sign up, and connect your social channels, and Metigy's AI starts analyzing and recommending actions within hours. Then you grow into the more advanced features and the ecosystem as you develop a comfort level and expand your goals and objectives. If you are ready to move beyond more data, or just a better process, and get to the core of what works, then Metigy is for you.