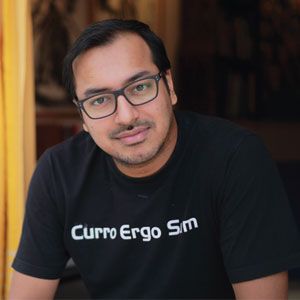 Arjun Chatterjee, Founder & CEO
Rapid digitization has caused a massive transformation in the way we market and advertise products. Agencies presiding over the marketing industry have had to cope up with this whirlwind change, and only a few have been successful so far. Runtime Solutions, a 360-degree Digital Marketing Agency, prides itself in running a comprehensive concept, creative, mobile development and innovation marketing set-up, which provides targeted solutions, in the area of digital and business consulting. Arjun Chatterjee, Founder and CEO, Runtime Solutions states, "We consider our role as the digital custodians of emerging technologies and innovations for the brands we manage."
Based in Mumbai, the firm is uniquely positioned to provide a distinct digital experience to each of its clients. Runtime partners with its clients to help brands establish a strong Internet and Mobile presence and achieve their online communication, marketing and digital goals. Runtime Solution's key differentiators range from campaigns and innovations which are technology, device, and platform-agnostic. Their team constantly pivots around the twin axes of creativity and technology to simplify complex product launch briefs or heavy data-based algorithms into exciting customer experiences and meaningful market intelligence. The firm prides itself on strategizing, conceptualization, and execution of the entire marketing process. Moreover, Runtime Solutions constantly keeps the customer-centricity at the core of its communication by constantly adding value to the various social media channels and other relevant platforms. And being the communication partner of choice for its customers, Runtime Solutions has spread its footprint to U.S., UK, France, and Australia.
Runtime Solutions works with and delivers value for a wide and a diverse range of clientele Management Details
In the dynamic world of the here and the now, the need to keep track of consumer behavior is critical to provide relevant and timely solutions. Runtime Solutions handles this pressure with deft and agile execution, whilst capturing user behavior and data. One fine example of their assured authority is the way they launched the Girl Rising campaign. Runtime Solutions worked closely with USAID (United States Agency for International Development) and Star Plus (India's premier General Entertainment Channel) to create a hugely successful campaign for promoting awareness for girl's education and empowerment. The company applied a blend of tracking and digital tools working with marketing and On-ground teams to generate a huge buzz across the digital landscape which carried the socially relevant message to thousands of people.
Runtime Solutions works with and delivers value for a wide and a diverse range of clientele, TATA Motors, Mahindra, Bombay Dyeing, Times of India, and Microsoft, to name a few. Their work has been recognized in multiple industry forums and Runtime has been a recipient of a slew of awards including Outstanding Achievement Award for Business Excellence 2017 and Social Agency of the Year. Chatterjee has been named as one of the Top 50 Global Most Influential Digital Marketing Leaders 2016.
The 7.5-year old firm takes their mission statement seriously – Curro Ergo Sum (I run, therefore I Am). Going forward, Runtime is looking to add integrated CRM to its repertoire in addition to bringing Artiste Management, Advanced Imaging and Video Technologies to their client solutions. For the Real Estate and Automobile industry, Runtime is building transparent platforms to de-clutter and provide customers with intelligence to make informed choices. In a world where customer engagement and connectivity is of utmost importance, Runtime ensures that their brands are in the fast lane of the online highway. Chatterjee concludes, "The future will belong to those who are smart enough to remain informed and are able to shop in the right aisles of the global online technology super-market."