Media consultancy wrestles big data for its small business clients
Aleisha McCall, Founder, Ultimate Edge Communications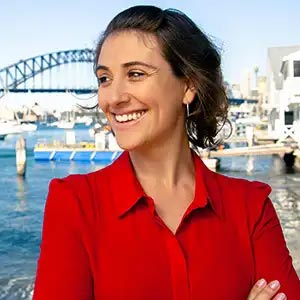 We've all heard of the benefits of big data, with predictive modelling and advanced heuristics, but where does that leave smaller companies who don't have vast data warehouses of first party data to sift and sort through?
EnterUltimate Edge Communications (UEC), a boutique media consultancybased in Sydney Australia that has differentiated itself by converging three foundational Exponential Marketing principles learned from The Exponential Growth Strategist, Dr Marc Dussault.
UEC integratesManagement by Metrics, Reversing For Results and Pathways To Profits into a cohesive value proposition to out-perform its peers, often by orders of magnitude. UEC is able to empower its small business clients with the same leverage large corporations get from big data, at a fraction of the cost even with a lot less data.
Exponential marketing strategies:
Management By Metrics
is the tracking and monitoring of as many incremental steps involved in the delivery of products or services as possible, be they online and/or offline. Online tracking is made relatively easy with UTM codes that seamlessly trackwebsite traffic, email and social media engagement and shopping cart behaviour within Google Analytics for automated monitoring and informed decision-making.
Offline tracking requires innovative, out of the box thinking; often indirect measurements such as mileage logged by salespeople, phone (talk) minutes recorded by executives and even sick days taken by staff.

Reversing For Results is the feedback loop that reveals the key components of successful versus unsuccessful transactions necessary for the optimal realignment of sales maximisation and cost minimisation initiatives.

Pathways To Profits are the various customer journeys clients take as they migrate from suspect to prospect and become a paying customer. Each pathway is assessed and analysed as per the Critical Path Method taught in Engineering School, but adapted to managerial characteristics of time, effort, cost, revenue and profit for each node on the pathway. An optimal configuration compromises 5 to 7 pathways to ensure the business' resilience in difficult times like COVID or other shocks that can adversely affect any given individual path.

Quantitative analysis across these strategies is essential for optimality to be achieved. The task is quite a bit more complex than it might first appear because the data comes from a variety of advertising platforms (Facebook, Google, Instagram, Twitter, TikTok, etc.) is processed on a wide range of website hosts and technologies (e.g. HTML, Wordpress, PHP, Weebly, Wix, etc.) as well as shopping cart systems and payment gateways (Shopify, Stripe, Square, PayPal, etc.).

Campaign reporting requires careful attribution of spend to ensure an accurate representation of individual ROI performance which can only be achieved with a fully transparent feedback loop spanning across all three frameworks simultaneously. This is accomplished via Tableau and Data Studio visualisation tools that connect to Customer Relationship Systems (CRM) such as Salesforce.com and/or data warehouses like Snowflake.

The sophisticated numerical and financial gymnastics required to pull this off feasibly is testimony to UEC's relentless commitment to its automated systems and processes that underpin the deployment and delivery of client campaigns. Led by its Quantitative Queen, UEC'smulti-award winning innovative spirit is embracing Artificial Intelligence and Machine Learning as they merge into the new realm of Robotic Process Automation. The recent COVID pandemic has been the ultimate stress test that has shown both UEC and its clients to be resilient to all variants of the lockdown restrictions experienced across Australia.