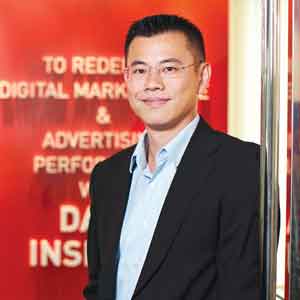 Sammy Hsieh, Co-founder and Chairman of the Board of Directors
With the COVID-19 pandemic adversely impacting almost all sectors, it is clear that this global economic slowdown could affect the overall sentiment and advertising budgets of enterprises. However, certain sectors, including e-commerce and online-gaming, have shown resilience as homebound consumers shift their purchasing activities online. Shifts in consumer behavior and demand have urged businesses to explore and invest in digital marketing efforts. As more consumers go online, brands are allocating more of their advertising budgets to mobile and online targeted marketing that focuses more on performance and KPIs. Brands are also seeking to enhance the cost-effectiveness of their marketing tactics via online and offline consumer behavioral data integration and analysis. Aligning itself with these emerging trends, iClick Interactive—an independent online marketing and enterprise data solutions provider—is connecting marketers worldwide with audiences in China.
iClick began its journey with its proprietary programmatic advertising and digital marketing solution platform that helps companies navigate the large and diverse online market in China. The company truly possesses omni-channel marketing competence, which boasts cross-channel and cross-screen capabilities, transforms data into insight, action and performance—making the first of its kind in China.
"There continues to be tremendous potential in the Chinese digital advertising market for international brands to build market share. That said, long-term success requires a customized strategy specifically adapted to China's complex market and cultural landscape," says Sammy Hsieh, Chairman and Co-Founder of iClick Interactive. iClick is focused on helping brands obtain a deeper understanding of the Chinese market through real-time data analysis and the formulation of optimal marketing technology strategies via advanced algorithms. With its ground-breaking products—iAudience and iAccess—the former provides audience profiling, audience segment data and competitive landscape analysis to help brands ensure their campaigns are cost-effective while the latter provides a one-stop cross-channel targeting solution for Digital China. The company is also enhancing its solutions and empowering clients with of Artificial Intelligence (AI), Big Data and Cloud based solutions. Hsieh notes, "We also provide the ability to select the right marketing mix to reach China's netizens drawing upon our strong market and media connections."
iClick's proprietary data-driven platform integrates data, technology and media connections to help brands meet their consumers' demands in real-time. It collects first-party data from digital advertising and third-party data from the company's media connections. Finally, the platform can deliver ad for clients through its connected channels—ranging from search engines and mobile apps to social platforms and video sites. iAudience was launched in 2017 to help clients understand their competitive position using data analytics. The solution leverages AI to offer real-time intelligence on the Chinese market and identify business opportunities. iAudience also empowers brands to develop smart marketing plans from conception to execution, helping them form a tailor-made selection of the most appropriate media channels to target.
We provide the ability to help brands connect with Chinese audiences drawing upon our Integrated Enterprise and Marketing Cloud platform that provides full-stack marketing and consumer lifecycle solutions
The company has recently launched iAudience 2.5, a significantly upgraded version of iAudience, with broadened data sources, a newly developed standalone "market module", and a streamlined brand analysis module.
The market module helps marketers understand 53 pre-defined market segments and offers ready-to-use "Audience Plans", and the brand analysis module provides them with deeper insights into the market landscape, an analysis of their clients' brands and products, and a closer look at competitor data. iAccess, on the other hand, is a one-stop cross-channel targeting solution for digital China, helping marketers reach Chinese audiences. The solution enables marketers to reach 93 percent of mobile users in China and also provides a high degree of transparency using data insights and third-party tracking. These two solutions work in tandem to provide companies with the real-time information they need to understand the trends affecting the Chinese market.
Through a strategic partnership with Tencent, iClick's Enterprise Solutions presents reliable recurring revenue streams with tremendous opportunities to upsell multi-national corporations (MNCs). Tencent's proprietary API connection enables brands to build 360-degree consumer profiles based on the collection and integration of purchased behavioral information from online and offline touchpoints, including WeChat Mini Programs, WeChat Payment, WeChat Work and more. As iClick continues to provide integrated marketing and smart retail solutions targeting Chinese consumers, the company believes Enterprise Solutions has strong and long-term growth potential and will become a significant gross margin contributor. In 2019, the company also launched iClick Lab, a technology resource hub specializing in the use of big data and marketing technology to enhance the consumer experience by empowering enterprises to deliver smart retail applications, capture market intelligence and validate using blockchain technology.
To illustrate more on the value proposition of iClick's solutions, Hsieh cites a customer success story wherein iClick's robust capabilities proved beneficial for Puma—one of the best-selling brands in the world, providing hot-sale sports apparel items. Given that the sportswear products available in the market are highly homogeneous and new products are being introduced quickly, it was challenging to expand Puma's target group while at the same time pinpointing its target audience in a highly competitive online environment. By offering its proprietary data platform, iClick created Puma's target audience profile based on basic attributes like demographics, interests and behavioral characteristics, followed by expanding the data pool based of its own data intelligence to further widen Puma's audience reach.
Harnessing its data platform, iClick Interactive accurately identified Puma's target audience using a 6-dimensional array based on the predefined audience profile and previous campaign data. "We then pinpointed high-potential target audiences across platforms based on the above attributes to build Puma's unique audience group," Hsieh recalls. "Running audience group" and "Soccer audience group" were then created by looking up audiences with similar traits and behavior across PC and mobile devices (lookalike model) to further expand Puma's audience reach. User tags were applied to each of the identified audience groups to enable ad personalization, which, as a result, boosted click-through rates. The campaign received the Best Use of Programmatic–Data Application Award at Golden Mouse Digital Award 2018 with 34 percent more than the estimated impression, 12 percent more than the estimated CTR, and 126 percent increase in brand followers.
Success stories as such stand testament to the value iClick brings to its clients. To keep up with customer demands, iClick has recently launched a new milestone–iActivate, the ultimate SEM campaign management platform that connects several ad platforms to efficient campaign monitoring and management. It is a strong addition to the iSuite products including iAudience, iAccess, iAx and iClick's Tracking Solution. With offices in Korea, Japan, Thailand, Singapore and the UK, iClick has built strategic partnerships with regional companies. "We will expand our business further into the APAC and European markets. We intend to enhance our competitive strengths and pursue the strategies to further expand the business by expanding the audience data set, strengthening data analytics capabilities and innovate technologies, and extending data application across more aspects in online marketing and beyond," Hsieh ends.

iClick Interactive News

iClick Launches New Marketing Analysis Tool - iNsights
iClick Interactive Releases Chinese Travel Shoppers White Paper 2020