Digital Disruption
By Brent Burgess, Head of Digital Technology, IAG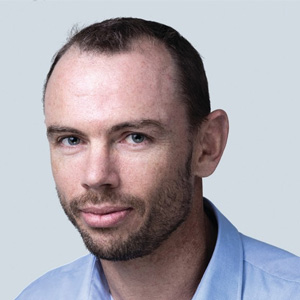 Brent Burgess, Head of Digital Technology, IAG
Threats
It's no secret that traditional organisations, born in the Industrial Age are under threat of disruption in the Digital Age and the insurance industry is not immune. In the past, high barriers to entry including regulation and compliance, brand loyalty, and established supply chains prevented new market entrants. Changing customer demographics and smaller, nimbler start-ups, along with advances in technology are steadily breaking down barriers. The arrival of autonomous vehicles and telematics (devices that provide crash avoidance and early warning systems) are making vehicles safer. As a result, revenue from motor vehicle insurance is under threat as cars become safer. Insurance start-ups are challenging existing business models by providing "just-in-time" or even-based micro-insurance delivered through a mobile first approach. This mobile first approach allows customers to toggle cover on and off for personal belongings or add temporary cover based on recreational activities (skiing, diving, biking, hiking). This model is disrupting traditional insurance products that typically cover a person or an asset over a 12-month period. Subscription or mobile-based insurance products are also increasing the frequency and relevance of interactions with customers. Traditional insurers sit in a low engagement category because their interactions typically occur once or twice a year, either at renewal or during a claim, making it difficult for traditional insurers to remain relevant in their customer's lives. Increased interactions present start-ups with additional opportunities to present their customers with new and compelling products and services.
The traditional insurance business model is also under threat from advances in insurance based on biometrics collected via wearables, which is also being leveraged by start-ups. The sharing economy changes the landscape for traditional insurers with new entrants to delivering products and services in an Uber and AirBnB environment where asset ownership is likely to decline over time.
Opportunities
Just as the Industrial Age created new frontiers for humans to explore, so does the Digital Age. In the Industrial Age, with the invention of the steam engine, railroads, and the combustion engine, new frontiers in our physical world were created through industrialised farming, mining, manufacturing, and international shipping. These frontiers created new industries and improved the living standards for millions of people around the world.
It's important to understand that the Digital Age is not simply an evolution of the Industrial Age. The Digital Age represents a new epoch in human evolution. In the Digital Age, the lines between our physical and digital world are blurring at an unprecedented rate. The blurring of lines through the internet of things, wearables, mobility, artificial intelligence (AI) and cognitive computing, augmented reality, virtual reality, natural language processing, image recognition/processing, and more are creating new frontiers to explore. These new frontiers are also generating huge amounts of data allowing organisations to have deeper insights and a better understanding of customers than ever before. These insights are enabled through the digitisation of customer behaviour and understanding of intent at a level that eclipses our knowledge of customer in an analogue world.
Adopting new technology and data techniques requires organisations to completely rethink their approach to marketing with arguably the biggest impacts being people and process
The Digital Age represents enormous opportunities for organisations to truly understand their customer's needs and to rapidly create new products and services that meet those needs.
Marketing Technology, a Key Differentiator
As we understand customer behaviour, intent and needs better than ever before and create the products and services to meet them, we need the ability to deliver these new offerings in ways that are compelling, relevant, and timely.
Traditional marketing in an analogue world was typically batch and blast, with most customers receiving the same creative and offering. Traditional marketing campaigns took weeks, if not months to create, assemble, and execute. Understanding how customers interact with these offerings and a marketing campaign's performance was not an exact science. In the past the channels have also been limited to TV, radio, print, email, and SMS.
With advances in big data techniques and sophisticated marketing technology we can now create relevant, targeted marketing interventions that are highly personalised and delivered through multiple channels in ways that are highly coordinated and measurable like never before. Search and social platforms, along with digital technologies such as smart billboards combined with beacon technology and mobile applications allow us to target customers in the physical world, further expanding the reach, relevance, and timeliness of marketing. This reach and timeliness will ultimately blur the lines between outbound and inbound marketing.
To make the most of these new marketing opportunities there are four critical capabilities that organisations, like insurers, must embrace to ensure their offerings are relevant in the Digital Age.
They are Data, Technology, People, and Process.
Data is a critical enabler, providing insight into customer behaviour, intent, and channel of choice (mobile, web, social, phone, email, SMS, face to face). Having a single view of customer combined with attributes that encompass demographics, near real-time behavioural attributes, channel of choice, product holding, discounts is fundamental to being able to deliver relevant and timely offerings through the right channel at the right time.
It's no longer acceptable to rely on batch and blast, typically outsourced marketing execution and performance reporting. Marketing technology provides the ability to manage evergreen, relevant content that is optimised and deployable across multiple channels. Marketing tech also delivers highly personalised interventions, effectively creating the "segment of one" that are measurable in near real-time.
Adopting new technology and data techniques requires organisations to completely rethink their approach to marketing with arguably the biggest impacts being people and process. The "marketer of the future" understands data, analytics, technology, and customer behaviour in addition to being a natural creative. This is a big task and a huge challenge that shouldn't be underestimated as organisations transform their marketing capability. Investing in the right people, providing product training, and leaning out existing marketing processes are key enablers. One would say these are mandatory in the digital age where the pace of change is accelerating exponentially and customer expectations change rapidly.
Conclusion
Delivering lasting transformational change requires a single, cross functional team focused on technology, data, people, and process re-engineering. The cross functional team must have the necessary skills, budget, and mandate to deliver change that will sustain an effective and efficient marketing operations and technology function. The team also needs the mandate to embed changes externally and change the nature of relationships with technology partners and agencies.
With the data, technology, people, and processes in place, the team then looks to explore emerging technology such as AI and machine learning. AI and machine learning are the next big things that will dramatically improve the reach and effectiveness of marketing. We are now at a point, given the huge amounts of behavioural data available, that AI will not simply learn which interventions resonate best with customers, but will ultimately configure and deploy these learnings automatically, freeing our people to focus on the creative process.