The UnData Project- How Marketing Convinced Itself and the World Its' Been Moneyballed
By Nicole McInnes, Managing Director, eHarmony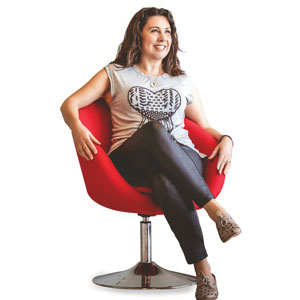 Nicole McInnes, Managing Director, eHarmony
Even in the cynical social media world people still 'love' brands. Some are loved for their brilliant utility, while others for what they say to the world with consumers using them as personal neon blinking how they want to be perceived. It is the marketers' lot to create this love for something as non-human as a brand. But this very complex process has been superseded by marketing's latest love child: statistical significance.
I've just finished reading "The Undoing Project", and it's clear the remarkable two subjects, Danny Kahneman and Amos Tversky, have had a huge influence on the positive disruption of marketing, as well as Baseball.Their partnership gave rise to Behavioural Economics, which in it's infancy debunked the accepted theory that human decision-making was logical. Humans, it turns out, are all kinds of irrational, driven by a brain designed to be efficient over accurate. It got me thinking about how data-driven decision making in marketing may not be the nirvana we hoped for, and in fact could be creating the opposite effect to what Danny and Amos intended.
I gained my love for data at Dell in the most data-driven marketing role around at the time. After spending ten years as a Creative, I was an unlikely hire but I thrived in the excel-obsessed environment. It was like being in an attribution machine, albeit a very manual one that showed undisputedly how marketing could drive business growth.I was hooked. Fast forward 10years and BI tools visualise in real-time, machines learn and industry budgets are filled with Martech. You'd think by now I'd be completely enamoured with data, yet instead, I find myself questioning it's promises.
The great thing about Dell's hundreds of unique URLs and the way we optimised the media mix was we knew it was directional. We knew we had to stand back and look at the bigger picture to understand whether we were making the right calls at the micro level. Conversely now the data comes out of software, it has somehow transformed into an unquestionable force.
The fact is that the set of data we are empowering to lead us, although statistical significant, still is only part of the picture. Not only in the marketing mix, where great swathes of investment are still immeasurable but also in the customers actions.
You may just have to add some instinct and experience to your marketing stack
Until we put a chip in people's heads, we are still in the situation where the level of data we can gather is only directional.
Why data over-valuing has occurred is paradoxically linked to our non-statistical based decision-making. It is easier to rely on data than to address massive gaps of uncertainty with the strenuousness of experience and innovation.
Add that it has also opened the door to the boardroom and you know you're going to run into biases. Who could blame the statistically significant marketer from frothing at the mouth when presenting proof to the CFO? At last everyone knows we are not running an expensive colouring-in department! A marketer wielding indisputable ROI stats can open that previously shut door, not to mention the budget drawer.
But there is even more emotion wrapped up in this data. Digital comes imbued with this unassuming humility and pure intent, consider: Intelligence versus fame-seeking, self-indulgence; true merit versusnepotism;transparent KPIs being met versus glamorous pretenders or informed agility versus redtape and opinion. This brave new test-and-learn world is so right and good in every way, we are almost willing it to be the answer to every marketing question.
Unfortunately non-digital channels still work, likely because human rationality hasn't grown along sidedata-attribution. But as we focus on the lowest cost per acquisition, we are concentrating our funds and our time, on channels that are way down the end of the customer journey. We've forgotten that other channels and techniques are needed for sustainable growth and more importantly needed to capture the emotional human mind. Our well-meaning obsession with the efficient and rational has inadvertently begun to shrink our businesses and endangered their sustainability.
To grow you may just have to add some instinct and experience to your marketing stack. They will remind you that data is just an indicator and not the building blocks for your acceptance into your customer's lives. Those building blocks, although now data-informed, look more like this:
Strategy:
We need to step back from the channels and beautiful, real-time dashboards (I know) to devise an overarching strategy that sits at the nexus point of your unique offer, the world and what your audience wants. Steve Jobs stated back in 1997 that we are not going to cut-through talking about "speeds and feeds". You only have to compare his brand vision with the solely data-driven strategy of Dell to know which approach was right.
Creativity:
We still have to immerse ourselves in the woolly, uncertain creative area to have any chance of stimulating a person's imagination. Effectiveness guru, Peter Field's studies clearly demonstrate creativity is really good business.
The Long Game:
We need to fight the dopamine-rush we get from instant tactics. Short-termism is one of the most dangerous side effects of the digital revolution. And it is hard to take action that could diminish returns in quarter, on the bet you will reap rewards in 6 months, but as Mark Ritson states thatsales promotions are marketing's heroin, fantastic at first but they will end up killing you.
Our data is blinding us, and relegating it to its rightful placeis what being true toit really means. To be truly accurate and rise above our own humanity, we have to be real about the uncertainty and irrationality of the world we are working in–and the emotion required to have any effect at all. I unhappily do not know the "cost per" of that yet.